PDU Cables™ introduces the new AirGuard® Split Extreme cable seal for sealing power and data cables through cable cutouts in raised floors of data centers and mission critical facilities.
MINNETONKA – November 16, 2015 - PDU Cables, a division of Engineered Products Company, the industry leading manufacturer and supplier of power-distribution cable assemblies in North America since 1981, has expanded its AirGuard Cable Seal product line with the new AirGuard Split Extreme floor grommet.  Where maintaining the integrity and effectiveness of an under floor air plenum delivery system is essential to a mission critical facilities energy efficiency, the new AirGuard Split Extreme cable seal incorporates a two-stage sealing system that integrates an (EPDM) "rubber" gasket combined with overlapping brush technology to deliver an airtight seal around cables, helping to eliminate air leakage and control airflow bypass in under-floor cable installations.
[caption id="attachment_463" align="alignright" width="300"]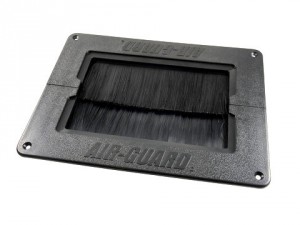 AirGuard Split Extreme[/caption]
Manufactured with flame retardant ABS polycarbonate, the Air-Guard Split Extreme adheres to NFPA 75 with its UL 94 VO fire rated materials and construction.  In addition to its two-stage sealing design that conserves energy and provides the most effective seal, this model offers a low profile slip resistant textured surface.  The dual gasket design is ideal for keeping either single PDU power or bundles of data cables positioned in the center of the grommet to minimize airflow bypass.  Perfect for new cable runs or sealing existing cables, the two-piece split grommet construction makes installation fast and easy without disturbing existing cables.
AirGuard Split Extreme (part number 116-800-015-Split) is available for immediate shipment.  For more information about the AirGuard cable seal product line, and other PDU Cables products, visit www.pducables.com  or call (866) 631-4238.
About PDU Cables
PDU Cables manufactures and distributes power-distribution cable assemblies used by more than 5,000 data centers in North America.  Known for its industry-leading innovation, PDU Cables was the first independent cable-assembly company to introduce colored conduit, to acquire UL Listing, and to offer the Power Cable and Equipment Configurator™ for documenting connections and specifying the correct under-floor power cables.  Electrical contractors install PDU Cables' pre-fabricated UL-listed cable assemblies to save time and labor, and reduce overall project costs.  The company is the exclusive supplier of the AirGuardâ Cable Seal product line.  Air-Guard is a trademark of Custom Plastic Distributors, Inc.