Pretesting Cables Saves Money
The time to find a power whip problem is before it is installed and under load. Once installed, your data center risks downtime and extensive costs as a result of the outage and eventual cable replacement.
The cost associated with down time and outages is why most N+1 data centers insist on UL Listed, 100% pre-tested and labeled power whips. They can't afford the cost and won't risk downtime to untested power cables.
While some cable manufacturers perform random tests of their cables, to ensure our power cables won't fail under load, PDU Cables pre-tests each cable (100%) before it is labeled as a UL certified assembly. If it has a PDU Cables UL listed label, you know (as well as the electrical inspector) that each power whip has been tested, certified and is ready for installation.
PDU Cables Cable Testing Process
All PDU Cables are thoroughly factory-checked and tested to ensure unsurpassed performance and reliability. Tests are made for ground integrity, insulation leaks and proper phase rotation before shipment. In addition, all conductors are Hi-Pot tested at twice rated circuit voltage plus 1000 volts.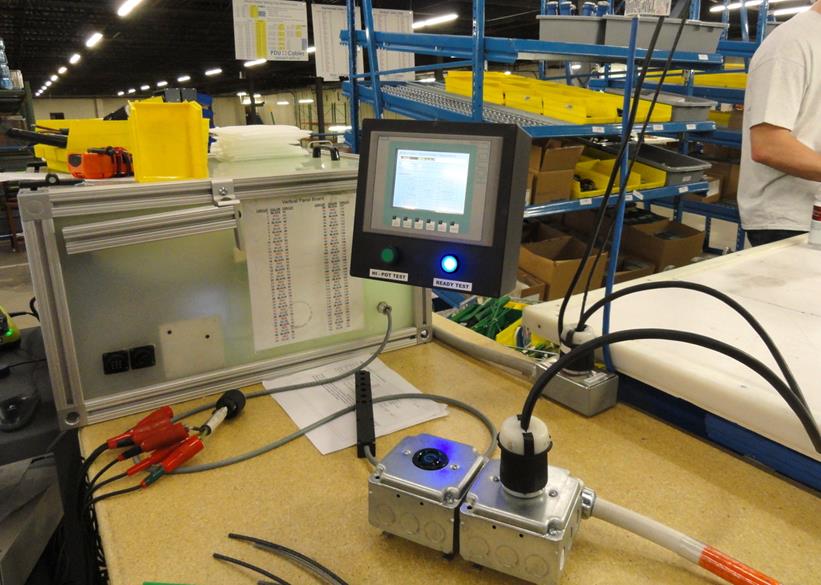 Testing ensures the following:
Proper ground integrity

Continuity

No insulation leakage

Proper phase rotation

Circuit voltage capacity (tested at twice-rated circuit voltage plus 1000 volts)
PDU Cables tests 100% of all prefabricated power cable assemblies.
Our process controls prevent us from shipping cables that do not pass our stringent testing criteria.

Insulation Leakage Test
PDU Cables performs insulation testing on all of its power cable assemblies. The test ensures minimal leakage through wire sheathing and verifies that the conductors were not damaged during assembly which can create arching between conductors or to ground, causing a circuit to trip. This also tests for proper phase rotation to ensure all conductors are connected to the proper terminals.
Phase Rotation Test
In addition to the tests required by Underwriters Laboratory, PDU Cables performs an additional continuity test on each conductor to ensure each device is wired properly. This tests continuity between each blade or socket of the supplied plug or receptacle and the correct color conductor at the opposing end of the cable, ensuring the device is wired according to the correct color code.
Ground Continuity Test
This test ensures that there is grounding continuity between the grounding blade or socket of the supplied plug or receptacle and the supplied grounding conductor on the opposing end of the cable. The continuity testing ensures that there are no breaks in the conductors used.
Dielectric Withstand Voltage Test (Hi-Pot)
The Hi-Pot test is performed on each conductor 2-times the marked voltage plus 1000 volts. There can be no breakdown (shorting or arching) of any conductor during the test.
Test Results
Test results for each cable are documented and supplied along with the cables. Test results are also retained for each cable by circuit and panel number. Individual test documents are available upon request, for all cable orders.