Custom Cable Capabilities
Since 1981, PDU Cables has been the leading manufacturer of prefabricated power distribution cable assemblies to data centers throughout North America.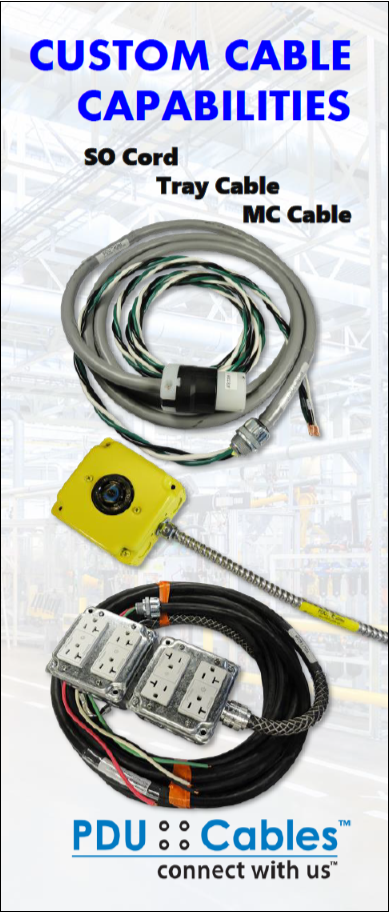 In addition to Liquid Tight Flexible Metal Conduit and Flexible Metal Conduit, PDU Cables is seeing a growing number of cable requests involving SO Cord, Tray Cable and MC Cable for applications including drop cords, feeder cables, battery and generator cables.
Building out or remodeling an open floor workspace? Are you reconfiguring a production line or warehouse? Need to bring power to workstations or equipment? We can help design the power cables necessary for each of your unique power supply needs. From custom overhead electrical drops with single or multi-circuit configurations, to generator cables, fixture whips and junction box assemblies.
With inventory, tools, and capacity to produce thousands of cables weekly, each power cable PDU Cables prefabricates is UL Listed, pretested and comes with a limited lifetime warranty.
Whether you need a single cable or thousands, PDU Cables can meet your needs. Tell us what you want, and we'll help design it to NEC standards and then build it for you.