Busway Solutions Tap-Off Boxes
Busway Solutions Tap-Off Boxes
Aftermarket Replacement Tap-Off Boxes for "U" shaped open channel busway track systems like Starline T5 Series Track Busway (250, 400, 800 and 1200 Amp)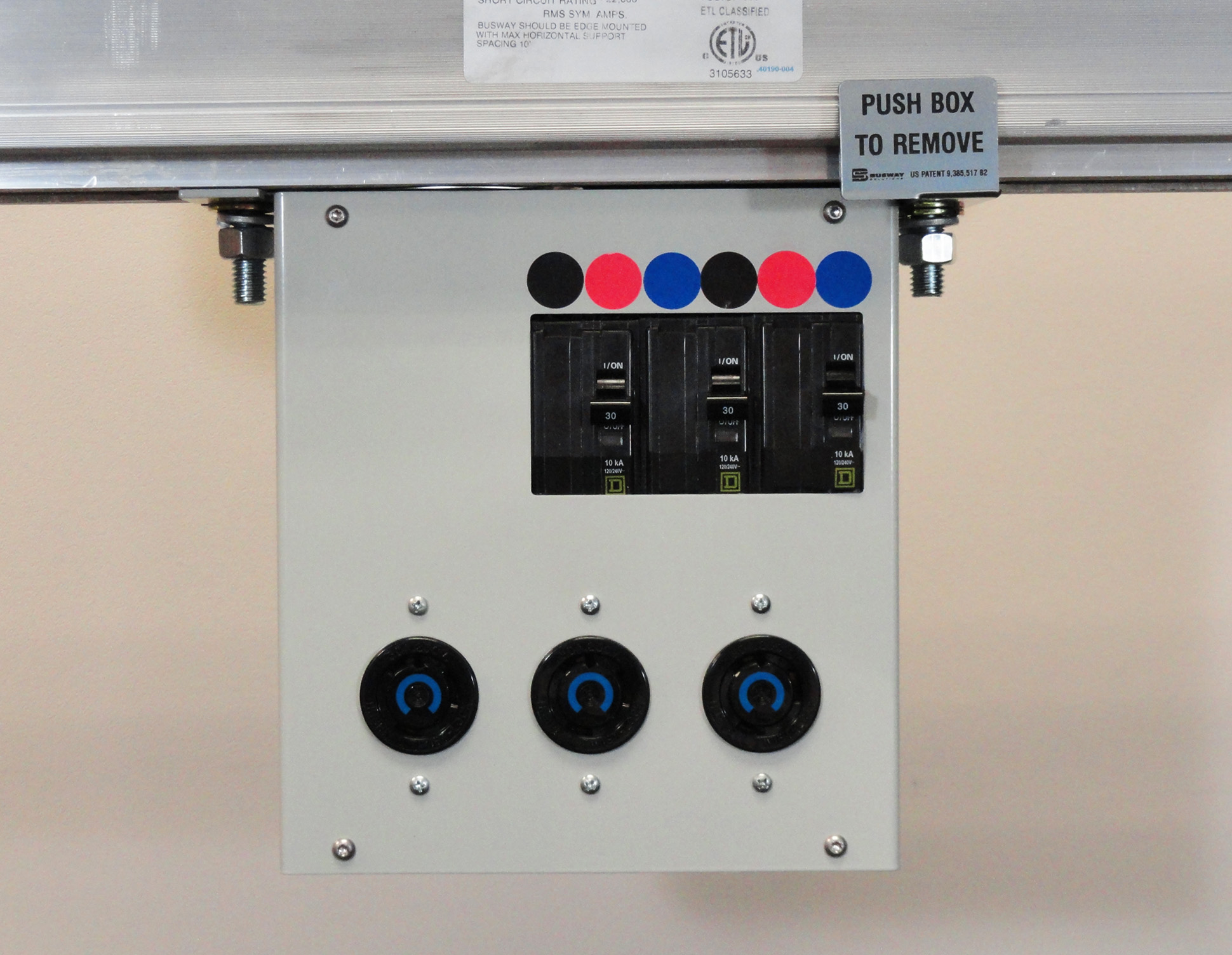 Tap-off boxes are used to draw power from the track busway. The tap-off boxes have a special plug head (mast) which inserts into the track busway slot. Twist the tap-off box 90 degrees to make electrical connection. The blades in the mast fit into the busbar channel inside the track busway for a compression connection. Power tap-off boxes are available in different configurations and capacities, ranging from single phase 120V to three-phase 415V/240V. The tap-off boxes typically contain circuit breakers and outlets or a drop cord with a receptacle.
Busway Solutions Tap-Off Boxes
Replacing or adding to your facilities power load requirements?
Tired of paying a premium price and experiencing long waits for proprietary OEM tap-off boxes to be delivered?
PDU Cables is happy to offer a better alternative.
Busway Solutions has designed a tap-off box specifically to accomodate the Starline T5 Track Buway system.
For a free quote contact us at 1-(866)-631-4238 or sales@pducables.com.
Visit our Contact Us page for the name of your sales representative.
For a pdf of Busway Solutions tap-off boxes, important and industry leading features.
Bustway Solutions Tap-Off Box
• Busway Solutions tap-off boxes are a cost competitive quick-turn alternative to traditional proprietary busbar tap-off boxes.
• Used to distribute (tap-off) power from "U" shaped open channel busway track systems including the Starline T5 series, B250, B400, B800 and B1200 track busway.
• Features dual mounting tabs for safe secure connection.
• Feature #8AWG wire standard on all boxes.
• Available in a wide range of device configuration.
• Each tap-off box includes customer specified breakers, and wiring devices as a complete pretested ready-to-install assembly.
• Large conductor surface area.
• Patented Inhibitor (directional indicator) assures proper de-installation to avoid possible plug mast damage.
• Powder coated light gray 16 Ga. Steel enclosure.
• Certified compliant by ETL to UL 857.
• Manufacturers limited warranty covers any defect in workmanship or materials for two years from the date of purchase.
For maximum safety follow NFPA 70e guidelines for proper installation and de-installation of tap-off boxes from busway power distribution systems.