Power Cable & Equipment
Configurator
PDU Cables created the industries first logic driven power cable and equipment configurator to help data centers order branch circuit power distribution cables.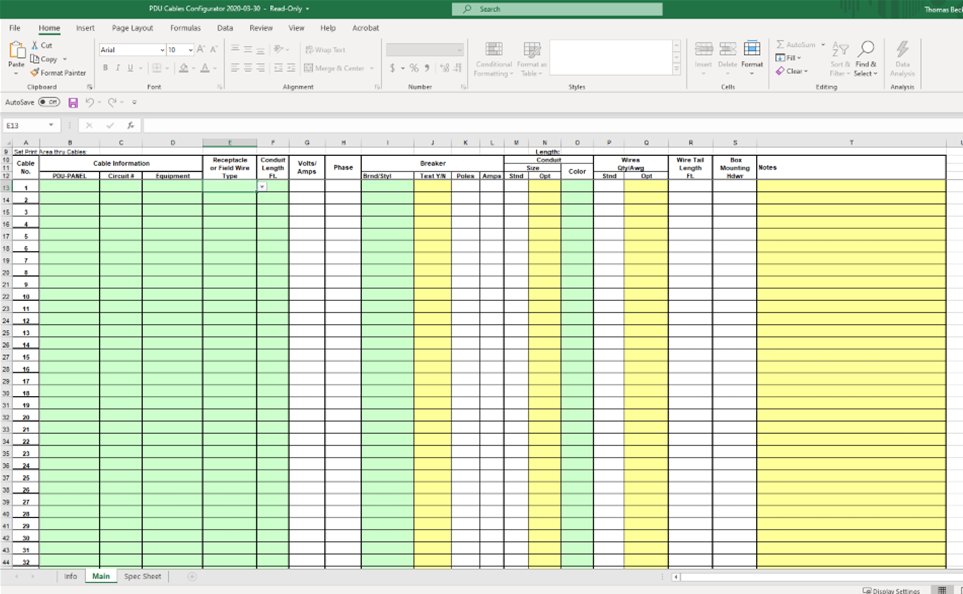 The configurator helps users document cable floor plans, create cable and equipment lists from engineered drawings and record and track PDU/RPP panel usage.
Downloading the Power Cable & Equipment Configurator will save you time quoting your power distribution cables. The Excel spreadsheet allows you to accurately label the cables to your customer's specifications.
Power Cable and Configurator Advantages:
User-friendly Excel-based software.
Drop down menus for: receptacles, length, breaker type and conduit color.
Detailed power specifications provided automatically.
Changes can be easily updated as the specifications change.
Customized equipment labeling fields are included.
Submit your RFQ electronically for competitive, same day pricing.
Excellent tool for future cable and equipment management.
Convenient online tool for easy access day or night.
When you first open the Configurator spreadsheet, you must choose enable macros.
The Macro level should be set at medium to work properly.
To set the security, open the main menu and choose Tools->Macros->Security, then select level.
Note: Low is not recommended!