Prefabrication
Why Outsource
Less Staffing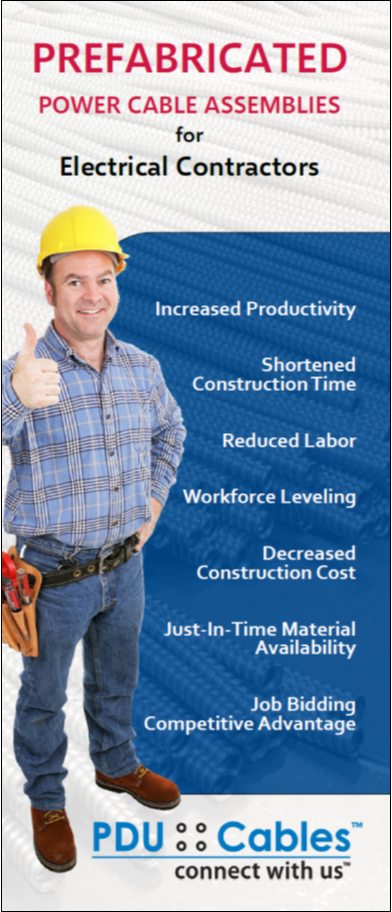 You don't have to hire more employees. When you outsource, you can avoid bringing employees into the company, which saves you money on everything from recruitment to training and benefits.
Lacking Knowledge or Skills
No need for specialized knowledge or skills. Outsourced vendors have specific equipment and technical expertise in their field. Effectively the tasks can be completed faster and with a better quality output.
Free Up Limited Capacity
Outsourcing allows companies to concentrate on core processes rather than the supporting ones, providing more time and resources to focus on their strengths, while eliminating the need to hire staff and secure work space.
Reduced Cost
Outsourcing is often driven by pressures to reduce costs and get to market faster. Outsourcing reduces costs, including indirect expenses; purchasing, inventory management, quality assurance, equipment technicians, material handlers, shipping and receiving personnel.
Why Prefabrication
Consistent Quality
PDU Cables UL Listed prefabricated power cable assemblies are built by experienced, dedicated assemblers in a controlled manufacturing environment, following specific NEC and component manufacturers recommended tools and standards with quality checks throughout the process.
Predictability
Fewer variables are involved when utilizing prefabricated power cable assemblies. This increased predictability makes it easier to manage inventory to efficiently plan and schedule job site workforce and related resources.
Limit Job Site Distractions
With prefabricated power cable assemblies, there is less truck traffic, equipment and material suppliers in and around the job site. Offsite prefabrication limits unnecessary distractions and disruption at the job site.
Increased Safety
Less work being performed at the job site means fewer bodies and fewer labor hours at the job site, reducing the risk of injury, accidents and other liabilities because of job site conditions.
Labor Savings
No need to recruit, hire and train more employees or secure workspace to build power cables. Outsourcing cable manufacturing allows on-site resources to focus on more important tasks.
Reduce Construction Site Waste
PDU Cables buys and produces in bulk and has extensive programs in place to reduce, reuse and recycle scrap materials, and limit waste materials from ending up in a landfill. By outsourcing prefabricated power cable assemblies, you eliminate most related on-site waste.
Benefits of Prefabrication**
**Source: 2017 FMI/BIMForum Prefabrication Survey
The Driving Force Behind Prefabrication
The need for productivity improvement and lean construction.
Competitive advantage in winning bids and increasing profits.
Impact on projects schedule.
The shortage of skilled labor.
Improved technologies allow for prefabrication.
Prefabrication specified during design stage.
Prefabrication Saves Time
"The fundamental concept of prefab is solid: When done right, it will save field forces a lot of time."
Increased Labor Productivity
"Contractors using prefabrication on more than 50% of their projects not only are more effective, but also expect to save over 16% of total annual field labor cost."
Prefabrication Allows for Quicker Project Turnaround
"Prefabrication relies on managing just-in-time delivery and inventory, and with traditional construction planning methods, you're pushing your planning out into the future."