Overview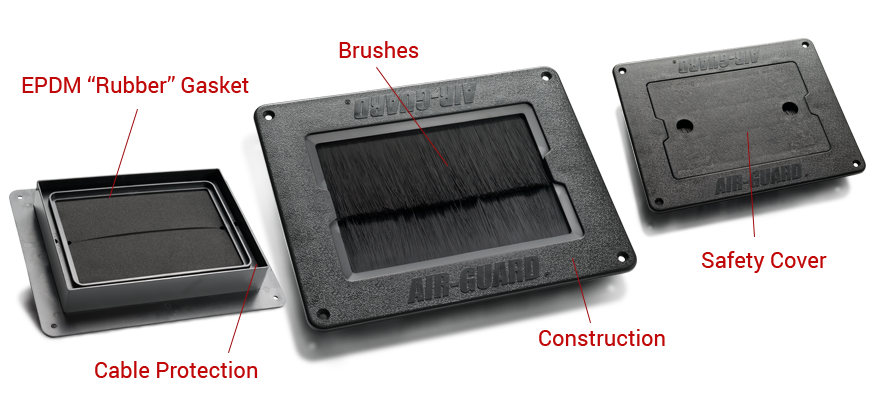 EPDM "Rubber" Gasket
The addition of the EPDM "Rubber" gasket is the newest technology advancement to the brushed floor grommet. By helping to keep cables centered in the grommet the rubber gasket helps to protect cables from possible damage, while increasing it efficiency in limiting bypass airflow and the introduction of contaminants in the underfloor airspace.
Brushes
The overlapping Nylon Polymer brushes provide an exceptional seal around cables for an effective and economical solution towards eliminating bypass airflow through cable cutouts. The Air-Guard Extreme (shown) eliminates nearly all bypass airflow even with cables pulled through the grommet.
Cable Protection
NFPA 75 and NEC 645 require electrical cable openings in floors to be protected to preclude the possibility of damage to the cables and minimize the entrance of debris or other combustibles. Each Air-Guard cable seal's frame serves as a barrier between the sharp edges of a floor tile and the power cables.
Construction
Flame retardant ABS poly carbonate material provides a tough, durable finish that will withstand extensive floor traffic without the worry of damage due to cart wheels or other objects. The ABS and nylon polymers carry a VO rating per the ANSI/UL 94 standard for "Tests for Flammability of Plastic Material for Parts in Devices and Appliances", making them compliant with both NFPA 75 and NEC 645. Grommets are either offered in a one piece or two piece designs. One piece design grommets like the Extreme (shown) are ideal for new construction and provide a superior seal with a quality finished look and appearance.
Safety Cover
Available standard on the Extreme (shown), safety covers fit perfectly inside and set flush with the opening of the grommet preventing contaminants from falling below the raised floor before cables are pulled. The safety cover removes any worry about accidental injury during construction or when grommets are installed but left unattended.
The AirGuard Extreme is a heavy duty double layer gasket system, incor...

The AirBlock 4" Round - Brush Grommet offers an easy and economi...

The AirBlock 4" EPDM Rubber Grommet offers an easy and economica...
AirGuard 5" Round - Floor Brush Grommet offers the most energy efficie...

The award winning AirGuard Flush Mount - Floor Brush Grommet is the id...

AirGuard Flush Mount Safety Cover closes the Flush Mount brush grommet...
AirGuard Surface Mount - Brush Floor Grommet provides a quick and easy...

AirGuard Air Adapt extends the Surface Mount to be used to cover a 12"...

AirGuard Brat - Raised Floor Brush Grommet for when you need the best ...